Time To Kiss Some Glass!
As Robinson Helicopters announces the introduction of glass instrument panels and advanced avionics for the R22, R44, and R66's, Guidance Aviation of Prescott, Arizona and Baton Rouge, Louisiana is upgrading its fleet with Garmin G500H glass panels.
"We decided a while back to invest in fleet upgrades that would better represent industry standards and provide much better situational awareness.  Starting our students' helicopter flight training with advanced avionics and glass panels will better prepare our graduates for the real world," states Dave Roy, Director of Flight Operations.
"Almost all actual instrument flying in helicopters is done in ships that have glass cockpits such as the Garmin G500H so using this equipment for our students' initial instrument training is a great advantage to our graduates when they get to real IFR.  The Garmin G500H is also very complementary to our tablet based software and the Computer Based Training we already have in place.  An added bonus is that all this added together equals less in-flight time needed for our students to get ready for the instrument checkride." states John "JJ" Johnson, Director of Academics.
About the Garmin G500H –
Improve Mission Efficiency and Reliability
Dual 6.5" flight displays that are easy to read
See clearly in dark VFR night, DVE or inadvertent IMC with HSVT™
Helicopter Terrain Awareness Warning System (HTAWS) support
Weather, traffic, and charting all in your primary field of view
Video input for FLIR or other camera display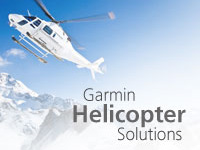 Engineered for safety and reliability, the G500H dual-screen electronic flight display provides an affordable flight solution that meets the needs of the most demanding helicopter missions. G500H has received FAA STCs for installation in the Robinson R44, Bell 206 series and Bell 407, as well as the Eurocopter AS350B2, AS350B3 and EC130B4.
Better Situational Awareness
Dual 6.5″ LCD screens, mounted side-by-side in a single bezel, put Primary Flight Display (PFD) and Multi-Function Display (MFD) capabilities right in front of you for easy scanning and interpretation. The PFD screen shows attitude, airspeed, altitude, climb rate and course/heading information, while the left side MFD provides detailed moving-map graphics with the helicopter's current position in relation to ground features, chart data, navaids and flight plan routings. Both screens are Class B night-vision goggle friendly for use with an array of optics.
Specially adapted to the needs of helicopter operators, our HSVT brings a powerful graphical perspective. Available as an option, HSVT can make a world of difference when visibility is less than ideal.
HSVT gives you a clear depiction of ground and water features, airports, obstacles, traffic and more — all shown in 3-D perspective on the primary flight display. It uses sophisticated computer modeling to recreate a virtual topographic landscape from the system's terrain alerting database. The HSVT graphics look so real, it's almost like having a clear-day "out-the-window" view of your flight situation — even in the darkest nighttime VFR or other low-visibility conditions.
Proven AHRS attitude/heading reference delivers high-precision spatial sensing for G500H digital instrumentation, replacing old-style gyros.
G500H can be purchased with the PFD on either the right or left side of the bezel for easy viewing depending on your pilot seat position.
Maintain Maximum Separation
With a GNS 430W or 530W series HTAWS navigator interfaced to G500H, certified "forward looking" terrain avoidance (FLTA) predicts in advance where potential hazards exist. An HTAWS warning received from the GNS 430W- or 530W-series navigator displays as an annunciation to the left and aligned with the top of the Altitude Tape on the G500H PFD.
To monitor location on unfamiliar airports, G500H is preloaded with geo-referenced SafeTaxi® diagrams for either U.S. or Europe airports, as well as a trial version of FliteCharts®. FBO, ground transportation, lodging and other facility information for most U.S. airports are also available through preloaded AOPA Airport Directory Data. When flying internationally, opt for global AC-U-KWIK airport directory data instead.
Expand Your Capability
Combine G500H with a variety of optional sensors and data links. Our GDL 69 series receiver gives you weather alerts and NEXRAD coverage for the US via XM satellite datalink (subscription required). The GDL 69A can also be used to enjoy more than 170 channels of SiriusXM Satellite Radio inflight programming.
In addition, video inputs lets the MFD function as a FLIR or other video source.¹
Keep an eye on other planes in your vicinity with Traffic Information Service (TIS) alerts on your G500H by adding a GTX 330 Mode S transponder. Or, select from available TAS and TCAS systems, including our GTS™ family of advanced traffic surveillance products.
To keep track of mobile assets and personnel, we have developed the GSR 56, an Iridium-based satellite transceiver. It can make and receive both voice and text communications in the cockpit, as well as view World Wide Weather (subscriptions required).